Milano 24 luglio 2023.
E' ufficiale la nota azienda di integratori TSUNAMI Nutrition ha siglato l'accordo di sponsorizzazione del torneo dei Pesi massimi più celebre di questi tempi: Road To ONE Finals.
Il torneo di kickboxing ad eliminazione diretta dedicato ai pesi massimi, quindi colossi di oltre 100 kg, partito due anni fa in Repubblica Ceca e che ha coinvolto nel suo tour 9 paesi europei con 32 campioni in gara è arrivato alla sua fase finale che sarà ospitata sabato 29 luglio a Rosolini (SR) durante lo storico gala siciliano Evolution Fight del promoter di Fight1 Bruno Botindari.
TSUNAMI Nutrition ha una bella storia da raccontare nel settore sport da combattimento dove assiste tecnicamente e sponsorizza i 2 campioni mondiali ISKA Italiani più seguiti: Mattia Faraoni e Martine Michieletto.
Inoltre TSUNAMI è stato presente come brand ufficiale nei principali gala del 2022 quali Superfights a Roma e The Arena a Campione d'Italia. Inoltre è stato anche lo sponsor ufficiale della nazionale Italiana di Fight1.
Il programma di gara:
La card prevede i seguenti match di cui ricordiamo il vincitore del torneo pesi massimi si aggiudicherà un contratto da 100.000 USD con ONE Championship, la prima promotion Asiatica di MMA, kickboxing e Muay Thai.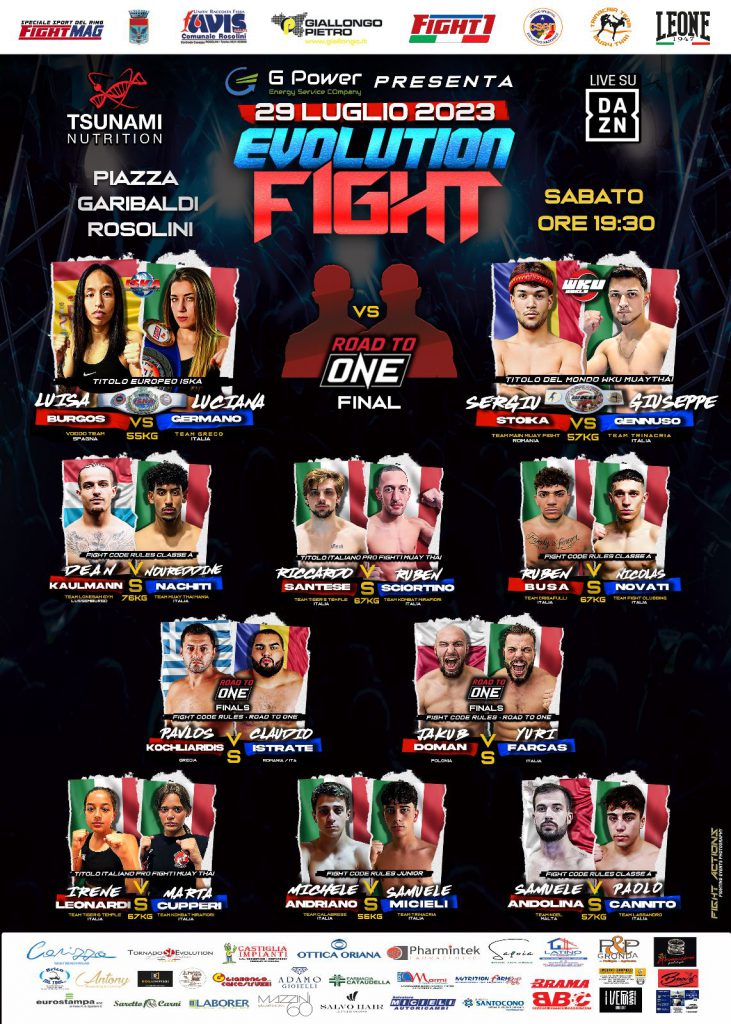 Sponsor della serata oltre a TSUNAMI Nutrition saranno
Leone Sport;
Gpower;
Giallongo Pietro S.r.l.
La serata partirà dalle 20:45 in poi di sabato 20 luglio in Piazza Garibaldi a Rosolini (SR).