Venerdì notte l'Italia del fighting si è fermata per assistere all'avventura della campionessa mondiale ISKA Martine Michieletto che, accompagnata dal coach e compagno Manuel Bethaz faceva la sua entrata ufficiale a ONE Championship.
Ormai il risultato è noto a tutti: una rimonta in crescendo wagneriano dopo un iniziale primo round che ha fatto temere il peggio, perché la sua avversaria Amber Kitchen (UK) aveva piazzato d'entrata un calcio e ben tre pugni al bersaglio ancora a freddo, in più con i micidiali guantini da MMA…roba da stordire chiunque.
E invece Martine non solo recuperava, ma surclassava l'avversario.
"The Fight of the Night!"
Non vi voglio commentare il match perché va visto su Eleven Sports dove è ancora visibile, mentre in diretta era anche su DAZN come tutti i prossimi eventi ONE Championship. Voglio raccontarvi, invece, il dietro le quinte partendo dai commentatori di ONE Championship Rich Franklin, già campione UFC, che continuavano ad esclamare "combattimento della serata!". Oppure il giro di messaggi via Whattsapp che giravano dopo ogni round commentando il match e testimoniano in quanti eravamo in piedi per seguire Martine.
Metti una sera a cena.
Ieri notte ad aspettare Martine al rientro in aeroporto non potevamo mancare e alla cena che è seguita Martine era un fiume in piena.
"Il problema non è stato l'avversaria quanto i problemi con il test di idratazione".
"Si mi ha sorpreso anche se ci aspettavamo che partisse subito forte. La preparazione fisica però c'era e quella mentale è il punto forte del mio coach, quindi ho recuperato e ho scoperto che i suoi colpi successivi non erano poi così efficaci, mentre i miei li pativa".
Amber dopo il primo round la vedevo scarica, non fisicamente quanto mentalmente. Dal video non si nota, ma io, avendola a pochi cm di distanza, potevo vederla negli occhi. Si muoveva come un automa e non era più presente come al primo round. Era come se il fatto di non essere riuscita a mettermi giù nei primi scambi l'avesse svuotata".
"Il vero colpo subito? Fuori tempo consentito quando dopo il gong Amber mi tirava una gomitata. Onestamente non penso fosse volontaria. Era troppo dopo lo stop".
"Lo confesso: io sono una donna piuttosto fredda, ma a Bangkok dopo l'annuncio della vittoria non ce l'ho fatta e sono scoppiata a piangere. Non sono abituata a smancerie, ma l'abbraccio a Danilo Fanfano (il secondo coach che mi ha seguito in questa avventura), e a Manuel è stato davvero intenso. Ora come mi sento? Ancora felice".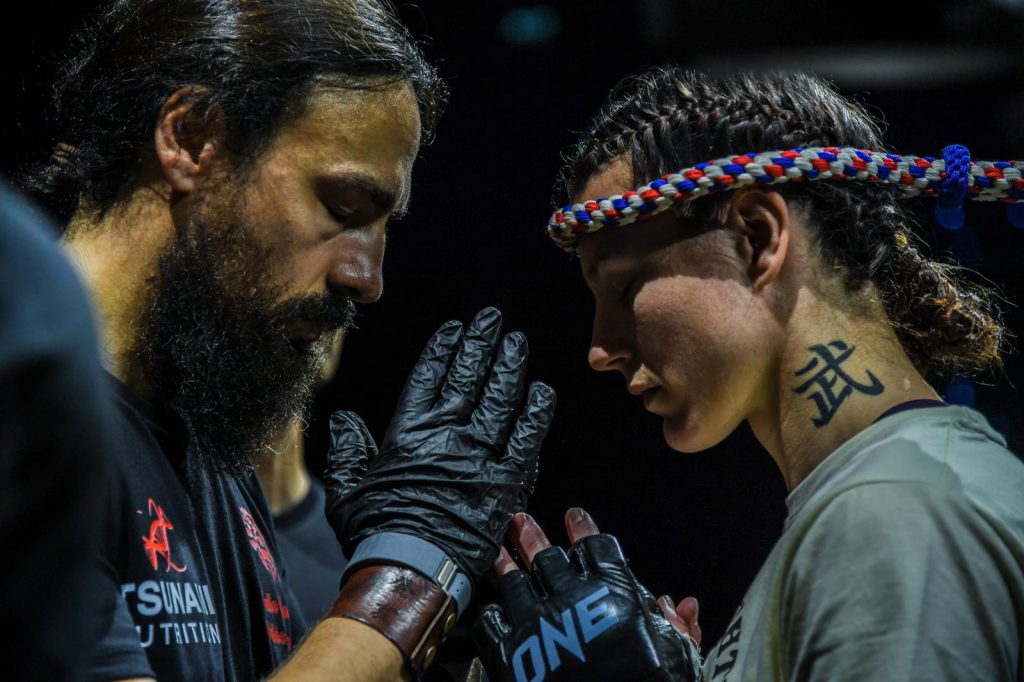 "Il futuro? Vediamo cosa mi proporrà ONE Championship. Certo che ora un match in casa mi piacerebbe proprio. Lo meriterebbero quanti hanno fatto la nottata per seguirmi".
Stay tuned…
A breve penso proprio che avremo notizie. Intanto vediamo cosa farà la campionessa in carica Smilla "The Hurricane"Sundell nel suo prossimo match.
Il parere di chi scrive è che Smilla non riesca più a fare il peso del titolo che detiene e, infatti, ONE le ha permesso di dispotare un match di kickboxing in categoria superiore per testarla nel maggio scorso. Se ciò fosse confermato vorrebbe dire che Smilla dovrà lasciare il titolo vacante alle altre contenders, Martine compresa.
Storia tutta da seguire sui nostri siti.