Campione D'Italia, 27 marzo 2023
Sabato 26 Marzo, nella suggestiva location del Casinò di Campione D'Italia, è andata in scena la quinta edizione dell'evento sportivo "The Arena 5 – Unstopabble Edition", organizzato dai promoters Laura Scherini e Marco Re, con il patrocinio del Comune di Campione d'Italia ed il Contributo di Regione Lombardia.
Tutto esaurito, per un evento che ha fatto registrare il "sold out" ad una settimana dall'inizio, trasmesso in diretta mondiale dalle ore 20:00 su DAZN, con il commento tecnico, per la prima volta direttamente dal bordo ring, di Jack Brunelli e Carlo Di Blasi, Presidente FIGHT 1.
Una card di altissimo livello ha visto vincitori, nella prima parte della serata, volti noti anche a livello internazionale come Hamza Imane, Nicolas Novati, Hakim Bah ma anche giovani prospetti come Lenny Blasi (che vince per KO contro il già più noto Oliva), Francesco Ippolito, Andrea Storai e Giuseppe Gennuso. Infine, un pareggio tra la star thailandese YodPT e lo scozzese Logan Chan che hanno dato vita ad un match di Muay Thai da cardiopalma. Omar Diallo si conferma Campione Europeo IMTF di Muay Thai, imponendosi ai punti contro Rami Batita. Un match molto combattuto che ha premiato Diallo per la sua ottima prestazione.
Nella Main Card, Jordan Valdinocci, fighter già noto sul ring di The Arena e adesso anche trainer UFC, conquista il titolo mondiale ISKA 67kg contro Jamal Wahib, con verdetto unanime dei giudici e sonori applausi del pubblico. Jordan aggiunge quindi un'altra importante cintura mondiale al titolo WKU conquistato, imponendosi così come il re della sua categoria.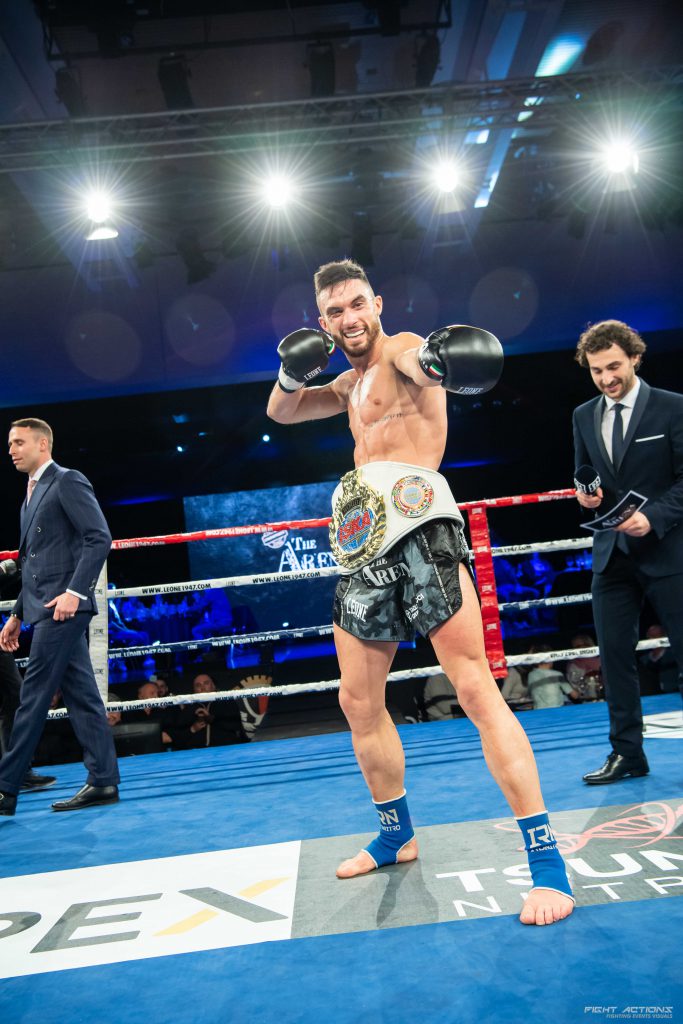 Lorenzo Di Vara, in rappresentanza del The King Fight Club ed allenato da Marco Re, riesce nell'impresa di battere Josh Hill, fighter ONE Championship e numero uno nel ranking UK, con una prestazione senza esclusione di colpi, che ha lasciato il pubblico con il fiato sospeso per ben 5 round. Colpi più incisivi, anche con le gambe e maggiore continuità rispetto all'avversario, unitamente al fatto di essersi sempre imposto al centro del ring, hanno portato Di Vara a conquistarsi la vittoria che gli aprirà sicuramente le porte a scenari mondiali più importanti.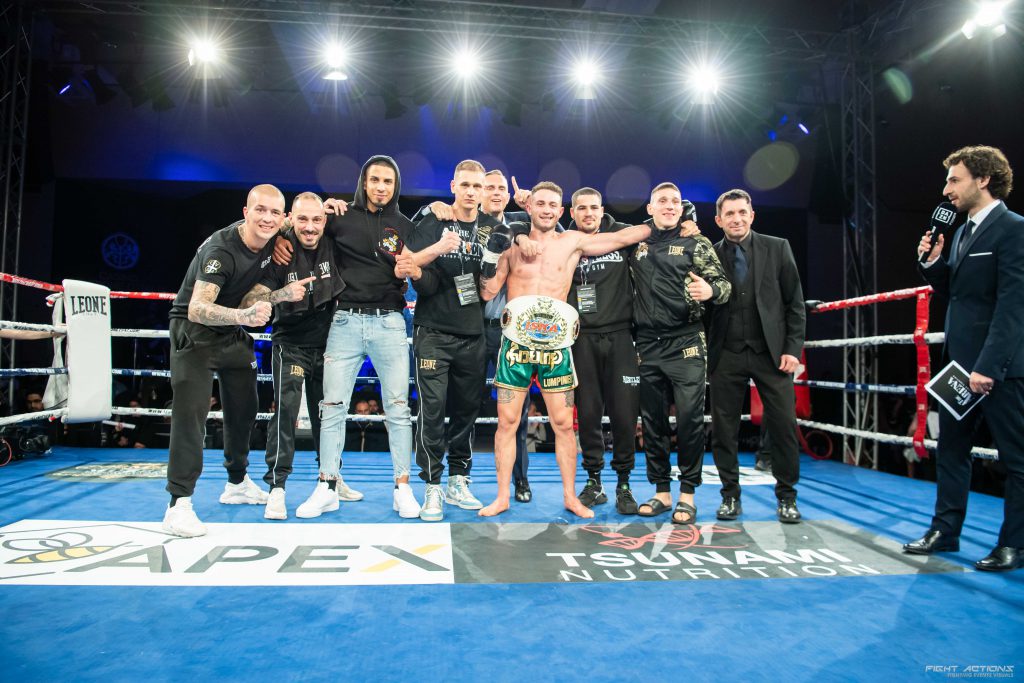 Nel main event della serata, il fighter e youtuber, Mattia Faraoni, difende per la prima volta in carriera il titolo mondiale ISKA contro il forte portoghese Luis Morais, già campione Europeo ISKA 100kg. Un match molto duro per Mattia, che ha dato dimostrazione di una grandissima forza e resistenza, ascoltando magistralmente il proprio angolo e gestendo i momenti di difficoltà con grandissimo coraggio ed esperienza.
Non sono mancati colpi spettacolari come i calci girati che contraddistinguono lo stile di Mattia, il quale sta facendo appassionare migliaia di persone a questo sport, anche grazie ai video su Youtube e sui Social.
Alla serata hanno partecipato, infatti, anche diversi influencers, youtubers e tiktoker famosi come Alex Stana, Gio Boccali, Saix e Simone Workout, presenti per sostenere Mattia e godersi lo spettacolo.
Sul finale, la commovente dedica a Lorenzo Castagna e Iuri Lapicus, due fighters recentemente scomparsi in due incidenti stradali, e non poteva mancare anche un pensiero per Daniele Scardina, il collega pugile ricoverato in gravi condizioni qualche settimana fa.
Ma The Arena non è stato solo fighting: ad aprire l'evento, nel pomeriggio, il Trofeo "The Shadow Project", che prende il nome dall'Associazione Antiviolenza della Campionessa Mondiale di Kickboxing, Gloria Peritore. Questo trofeo, in collaborazione con The Arena, è stato organizzato con lo scopo di promuovere e dare maggiore visibilità alle donne, in ogni ambito per promuovere la parità di genere e, quindi, anche in quello del fighting femminile. Quattro le ragazze dilettanti che hanno incrociato i guantoni nei due match femminili del Torneo.
I ringraziamenti dei promoter Laura Scherini e Marco Re, nonché di tutta l'organizzazione del The Arena, vanno all'Amministrazione del Comune di Campione d'Italia per il prezioso supporto ed il grande entusiasmo con cui hanno accolto l'evento ed al Casinò di Campione ed il personale della struttura per il grande sostegno.
Un grazie agli sponsor della serata, che ne hanno permesso la realizzazione: Tsunami Nutrition, Apex S.p.A. (main sponsor), Leone1947, MUZZA, Heineken, ALFA Impianti, Monava trasporti, Grafica Mazzoni, Bertelletric, La Detercasa e ai partner e collaboratori che hanno supportato l'evento: Wide SRL, The Shadow Project, DoctorsStudios, Metea, SH21, Grand Hotel Campione,