Roma dicembre 2022.
Si è svolta oggi in Campidoglio la premiazione dei campionati mondiali ISKA di Mattia Faraoni e Gloria Peritore, insigniti dalla medaglia del comune di Roma, onorificenza precedentemente conferita a capi di stato in visita alla capitale e a personalità internazionali come Vasco Rossi.
La cerimonia officiata dall'Assessore agli eventi, sport , moda e turismo Alessandro Onorato da un lato ha riconosciuto il valore dei due campioni internazionali made in Rome, dall'altra l'incredibile lavoro fatto da Fight1 nella capitale organizzando 3 grandi eventi uno in fila all'altro superando ogni ostacolo e imprevisto come l'inagibilità di un palazzetto all'ultimo minuto.
L'assessore Onorato oltre a spendere parole di lode nei confronti della iniziativa sportiva ha rimarcato l'importanza dell'impegno nel sociale dei campionati di Fight1 con le trasmissioni dalle zone disagiate, agli incontri nelle scuole, all'attività di ascolto alle donne in difficoltà con l'associazione Shadow Project.
Fatti non parole .
"Sosterremo concretamente ulteriori iniziative sul territorio sia in ambito sociale che sportivo – ha rimarcato l'assessore Onorato – ed in particolare sarà nostra cura concedere il palazzetto dello sport di Viale Tiziano rinnovato per un nuovo evento mondiale di Kickboxing".
Carlo Di Blasi, presidente di Fight1 e di One Championship Italia ha subito replicato: "Un palazzetto dello sport nuovo sarà la location perfetta per riportare a Roma OKTAGON con ROAD TO ONE e una nuova sfida di Mattia Faraoni e di tutti i migliori campioni ISKA in forza a Fight1.
Ringrazio il comune di Roma per questa onorificenza ma anche e soprattutto gli sponsor che ci hanno supportato, e DAZN che ha portato il fighting in mainstream"
Conclude Mattia Faraoni: "ringrazio il comune di Roma per questa onorificenza ma anche , e soprattutto , gli sponsor che ci hanno supportato dalla prima edizione di superfights e a DAZN che ha portato il fighting in mainstream . Grazie alle immagini del mio ultimo match trasmesse nel mondo sono subbissato di offerte sia a livello sportivo che non. "
Lo storico palazzetto di Vle Tiziano diventerebbe così la location ideale per un super evento "OKTAGON presenta Road To One" a novembre 2023.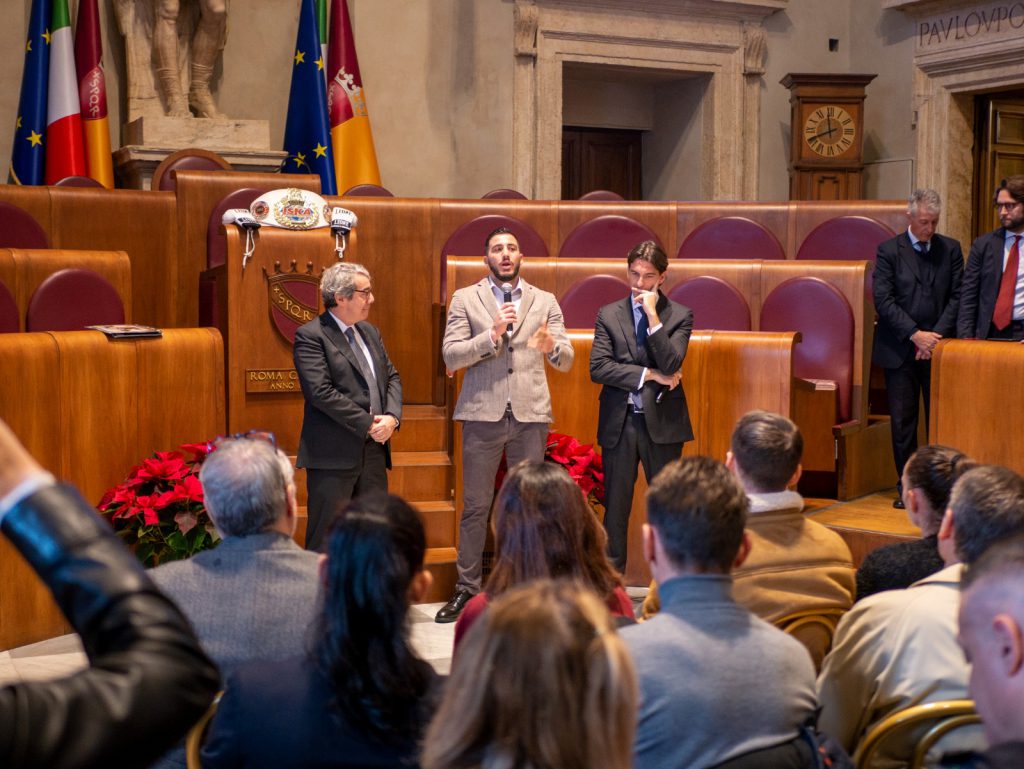 ROAD TO ONE SU ELEVEN SPORT
Intanto prosegue il torneo super massimi "Road to One"sabato sera a Rosolini (SR) alle h 22.15 in diretta su Eleven sport i cui vincitori saranno poi gli interpreti del gala romano nel novembre prossimo.