DOPPIO APPUNTAMENTO DA BANGKOK VENERDI' POMERIGGIO E EREVAN SABATO SERA.
Egregio collega,
anche questo fine settimana presenta diversi appuntamenti targati Fight1 che non mancheranno di soddisfare e dare grandi emozioni a tutti i nostri associati; grandi momenti internazionale e attività istituzionale divisa fra Nord e Sud Italia, ma andiamo con ordine.
TORNA ONE CON "ONE FIGHT NIGHT 7"
Ancora un appuntamento con il nostro partner internazionale One Championship, che presenta a partire dalle ore 8 di sabato mattina il galà "One Fight Night 7", in programma al Lumpinee Boxing Stadium di Bangkok in Thailandia, con una card al fulmicotone che ti presentiamo a seguire e la consueta diretta su Eleven Sports.
ONE FIGHT NIGHT 7: LINEKER VS. ANDRADE II
Andrei Stoica vs Francesko Xhaja – Light Heavyweight Kickboxing bout
Saemapetch Fairtex vs Zhang Chenglong – Bantamweight Kickboxing bout
Eko Roni Saputra vs Danny Kingad – Flyweight MMA bout
Danielle Kelly vs Ayaka Miura – Catchweight Submission Wrestling bout (119 Pounds)
Martin Nguyen vs Shamil Gasanov – Featherweight MMA bout
Tawanchai PK.Saenchai (c) vs Jamal Yusupov – ONE Featherweight Muay Thai World Title bout
John Lineker vs Fabricio Andrade – Vacant ONE Bantamweight World Title Main Event bout.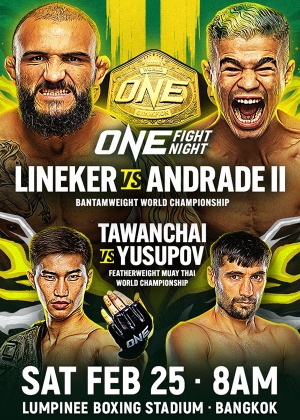 PESI MASSIMI IN SCENA: LA SFIDA DI CLAUDIU ISTRATE NEL TORNEO ROAD TO ONE EUROPE.
Sarà da Erevan in Armenia che sarà trasmesso, sempre su Eleven Sports, Road to ONE Europe, il torneo di kickboxing pesi massimi ad eliminazione diretta che varrà per il vincitore un contratto da 100.000 $ con ONE Championship.
A difendere il tricolore sul ring armeno ci sarà il nostro Claudiu Istrate che combatterà nei quarti di finale del torneo.
La sfida vedrà quindi affrontarsi i seguenti fighters:
Niknam Haghparast (Iran) vs Claudiu Istrate (Italia); e
Pavlos Kochliaridis (Grecia) vs Sasun Hakhverdyan (Armenia).
Non perdete la diretta dalle ore 16:00 di sabato 25 febbraio: su Eleven Sports va in scena lo scontro tra i titani del ring!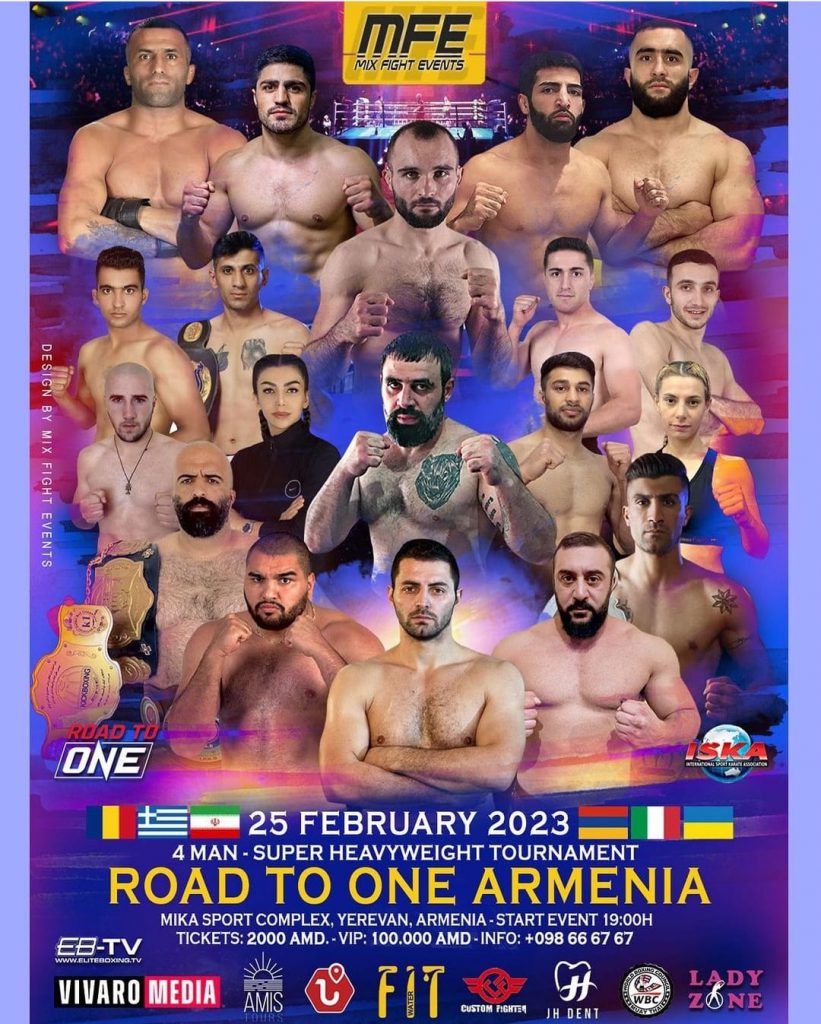 PIEMONTE E SICILIA PROTAGONISTE
Domenica 26 febbraio grandi appuntamenti con l'attività istituzionale Fight1; si comincia con gli Interregionali del Piemonte, Liguria e Lombardia organizzati da Marco Franza a Cafasse in provincia di Torino in via Dottor Milone, 8 con match delle varie discipline a contatto pieno e leggero, finalizzati alla selezione per i prossimi Campionati Italiani in programma a Rimini il prossimo giugno.
In Sicilia altro grande momento dedicato ai dilettanti con il Torneo regionale in programma al Pala Battiati di Santagata Catania, con l'organizzazione dell'asd 16 corde di Antonio Provvidenti e la supervisione di Fight1 Sicilia.
Con questo è tutto, buon fine settimana.
Gianmario Girasole